Big Speed! Big Profits! A Big Deal!

Now for as little as $495/month, you can achieve the ultimate level of wide-format print productivity. Put your future in motion with the DisplayMaker Series XII.

With breathtaking speed that delivers prints in just 2-minutes and the value of our new lease program, you can make profits in just 20 minutes each month. Contact a ColorSpan Representative for lease program details.

DisplayMaker Series XII Features: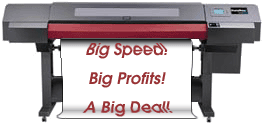 12-Printhead Design
Allows multiple configurations for breakthrough speed and productivity.

2-Minute Prints
Achieve incredible productivity from unparalleled speed.

Ultra Wide Gamut Automation Eye
Automates calibration for fast, easy mode configuration.

72" Width
Increases productivity by enormous proportions.



ColorMark+ Option
Allows custom color profile creation and post-RIP color manipulation.

Award-Winning Performance
The new DisplayMaker Series XII is recognized for its showstopping technology.

Multiple RIP Options
Provides user-friendly file processing from both ColorSpan and 3rd Party Solutions.


Available in 72", 62" and 52" models. ColorSpan offers a complete line of media and inks for countless indoor
and outdoor applications.
Now you can combine the high-speed advantage of the DisplayMaker Series XII with the leading print server solution from Onyx Graphics.

"The production-oriented features of Onyx are a perfect complement to the high speed printing options of ColorSpans Series XII printers."
—Neil Baker, Onyx Vice President and General Manager

For more information on Onyx's PosterShopR Pro and PosterShop Client/Server products, please contact us.