You're looking at the incredible array of opportunities brought to you by Graphtec's new SignJet PRO. Because with SignJet PRO you get two production powerhouses in one machine:
Precision Cutter:
With Graphtec's famed precision, record-breaking speed and accuracy.
High Speed Printer:
A big, fast 54" (or 24") wide color inkjet printer for brilliant, exciting, high resolution color graphics and photo realistic images. You can also print and contour cut images. Take a look at the dazzling concepts and creative designs you can produce with this kind of versatility. Your operations will never be the same!
Works with your favorite software:
SignJet PRO works with all of your favorite sign and graphic software packages.
Big ink reservoir:
Lets you keep on printing for high productivity and throughput.
Print large designs:
Print continuous, large format designs up to 52' long with sharp 300 dpi resolution.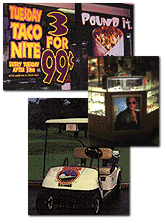 SignJet PRO means opportunity!
Some of the many end-uses achieved from the SignJet PRO:
Backlit Signs
Trade Show Graphics
Posters
Intricate Decals and Stickers
Full Color Banners and Signs
Contour Cut POP Displays
Textile and Fabric Transfers
Colorful Product and Packaging Comps
Art Reproductions
Event Sponsor Packages
Brilliant Vinyl Graphics
Promotional Graphics
Labels
Vehicle Graphics
Temporary Directional Signs
Contact Us for more information regarding SignJet PRO.